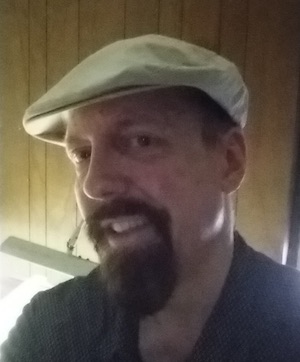 Alec Stevens was born in 1965 in Salvador, Bahia, Brazil where his father, stationed in various parts of the world, was on military assignment.

At age twenty Alec began his career as an illustrator (for the New York Times Book Review, the New Yorker magazine, Reader's Digest Corp., AT&T, United Features Syndicate, etc.) and artist-writer in comics (Fantagraphics Books, DC Comics imprints Piranha Press, Paradox Press, & Vertigo, Fantagraphics Books, Dark Horse Comics, etc.).

Since 1992 he has served as an instructor at the Kubert School in Dover, New Jersey, USA. Many of his former students (such as Sergio Cariello, artist of the Action Bible) are notable professionals.

A dedicated Christian since 1989 Alec Stevens subsequently illustrated for several Christian book and magazine publishers before embarking on his own Calvary Comics imprint in April, 2000.

Additionally, Alec played guitar in several secular bands in the greater NYC area in the early 1990s before exclusively performing Christian music in various churches and outreaches. From April, 2010 until August, 2016 he played electric guitar with the music ministry of Times Square Church in New York City. On the TSC Live Worship 5 CD, released in 2015, his guitar work is featured on 17 (out of 19) tracks. His preferred instrument is a 1962 reissue Fender Stratocaster.

Presently he leads a weekly Bible study for his college students and attends local Christian fellowships in northern New Jersey.